Česká
Gallery | Quotes | Relationship
Physical Appearance
Monster Species
Mosquito
Gender
Female
Monster Profile
Occupation
Exchange Student
Media Debut
Česká (チェスカ) is a Mosquito (??) that appears in Monster Musume: Everyday Life with Monster Girls Online.

Appearance
Edit
Personality
Edit
Skills and Traits
Edit
Zoological Classification
Edit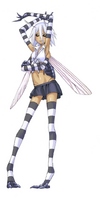 Mosquitos are an insectoid pseudohuman race who have four insectoid limbs, antennae, compound eyes, an insect abdomen, wings and other traits of a mosquito.
Members of the race posses a needle-like proboscis inside their mouths that they use to penetrate the skin of their prey and suck liquids such as blood. Their saliva possesses anesthetic properties that they spread over the flesh of their prey before penetrating them. While they mainly subsist on blood, they can also drink honey and fruit juices.
They're concerned that there are very few partners to suck blood from during their study abroad.