ANM48



Debut:

Occupation:

Idol Group

Voiced by:

Sae Aiuchi
Minami Shinoda
Sayaka Senbongi
Asuna Tomari
Hiyori Nitta
Risae Matsuda
ANM48 is a Japanese idol girl group named after its members' animal ears ; who are various types of Kemomimi (or Kemonomimi) (Beast Ears) species.
Created following the reveal of the existence of "monster species" to the general public, the group, with a roster of 48 members, is the first idol group in the world to be comprised of demihumans. The group has become a national success within Japan.
Unlike typical pop groups (which only perform in concerts or television segments), ANM48 has its own performance theater where its members perform live shows daily. The group's latest single, "Everyday Kemomimi (Everyday Animal Ears)", has broken the group's current record of consecutive #1 musical hits.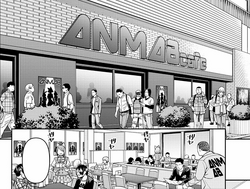 The ANM48 Cafe and Store is a Japanese Pop-themed cafe that offers casual meals and sweet desserts made according to recipes produced by ANM48's idol singers, which diners can enjoy while ANM48 songs and videos play on large screens set up around the interior space. There's also an attached shop with exclusive merchandise, and the cafe also hosts special meet-and-greet events with ANM48 members.
The cafe features collectible coasters that feature photos of the ANM48 girls. Patrons can select a coaster to go with their drinks from a stack of face down coasters on the counter. Collecting these coasters is a popular hobby amongst cafe patrons and some come to the cafe with display folders full of coasters and lay any duplicate coasters on their table in the hopes of trading with other customers.
ANM48 is a parody of the real-world idol group

AKB48

. Additionally, the ANM48 Cafe is a parody of the AKB48 Cafe and Store that operated in Akihabara next to the JR Akihabara Station from September 29th, 2011, until its closure on December 31st, 2019 due to "renovations to the commercial area".
As is common with most "themed-restaurants" and maid cafes, many people feel that the food and drinks are overpriced given their very small size and mundane appearance. However, others argue that the price is to pay for the experience of being inside the cafe; not just the food.
"Everyday Kemomimi (Everyday Animal Ears)" appears as an insert song in the Monster Musume: Everyday Life with Monster Girls anime, with lyrics by Aiko Nakano and composed by Fruit Juice 100%. The song itself is a parody of the AKB48 single "

Everyday, Katyusha

(Everyday, Hairband)"; similarly, their song "Karitakatta (I Wanted To Hunt You)" is a parody of AKB48's "Aitakatta (I Wanted To Meet You)".
Community content is available under
CC-BY-SA
unless otherwise noted.