Actia
Gallery | Quotes | Relationship
Kana
アクティア
Romaji
Akutia
Voiced by
Aya Fujita
Physical Appearance
Monster Species
Mothman
Gender
Female
Hair
White
Eye
Red
Monster Profile
Occupation
Exchange Student
Media Debut
Actia is a Mothman that appears in Monster Musume: Everyday Life with Monster Girls Online.
Actia's shirt has a slogan that reads "Riajuu Bakuhatsu" (リア充爆発, Riajuu Explosion). As a mothman she has moth wings, fur on her lower arms and legs, and moth like antenna. 
Actia is a N33T, she uses 2chan slang and wears a t-shirt suspiciously similar to Anzu Futaba's 'You Die If You Work' shirt.
Mothman Physiology:

Light Attraction: As seen in Chapter 49, Mothmans, like normal moths, are attracted to light, which puts them in a trance-like state. In fact, the manufacture of insect light is a traditional craft of the Mothmans.
Flight: Their moth-like wings allow Actia to fly.
| | |
| --- | --- |
| Personality Type | |
| Level Max | 40 |
| Diet | |
Stats

Lvl.1

Max Lvl.

☆

☆☆

☆☆☆

100% Affection

125% Affection

150% Affection

200% Affection

気力
Willpower

268

480

534

588

642

+133

+150

+166

+198

素早さ
Agility

71

127

142

156

170

+63

+67

+71

+78

モン娘力(攻)
Attack

205

367

409

450

491

+117

+130

+142

+166

モン娘力(守)
Defence

133

238

265

292

318

+78

+87

+95

+111
Skills

'

Attacks 2 opponents at 0.5x damage

'

'

Increases attack by 150%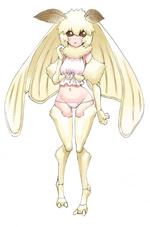 Mothmen (モスマン, Mosuman?) are a psuedohuman race of beings who possess moth-like attributes. Encountered extremely rarely, Mothmen are thought of as agents of destiny and heralds whose presence precede catastrophic events where loss of life is expected, however, they do not actually posses these abilities. Nocturnal, like their animal counterparts, they are easily distracted by bright lights and often camp outside of 24-hour convenience stores due to this.
The first prominent recording of a Mothman encounter by human society was in West Virginia of the United States of America, where Mothmen sightings were recorded from November 1966 to December 1967, proceeding the collapse of the Silver Bridge and the death of 46 people.
She was featured in the Event: "Riajuu, you should just explode!".
Actia is named partially after the

Actias artemis

; a moth native to Japan as well as Korea, China, India and Malaysia. Actias artemis is a close relative and look-alike of the North American

Luna moth

.
"Riajuu" is internet slang for "somebody who has a good life". The term is typically used by otaku on message boards like 2channel to refer to people who have girl/boyfriends and are popular with their peers (eg. Riajuu! You should just die!).
Community content is available under
CC-BY-SA
unless otherwise noted.