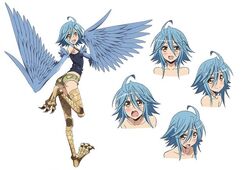 Ahoge ("Foolish Hair") refers is to a single large lock of hair naturally sticking out from the head of a character who may possess an otherwise neat hair style. The visual trait often acts as a typical visual cue to mark a lovable loser, klutzy, mischievous or otherwise carefree character in Anime or Manga.
The term was originally a hairdresser term for the hairs or cowlicks that would not comb down, and later mutated into a literal reflection of a person's intelligence in media parodies.
The appearance of an Ahoge can vary from being long, thick and straight to being short, thin and curled, in some stories the lock will even act to reflect the character's mood (much like animal ears), or even possess an awareness of its own (be it magical or otherwise) and can be used by the character as a directional device. Although exceptions have occurred, an Ahoge usually appears on characters in works with comedic content and then mostly on the female characters, although some male characters do also possess them.
While Ahoge have been seen on characters as far back as 1953, the first series to popularize the specific use of the term is Pani Poni Dash!.
One of Papi's Chickies sports a similar Ahoge to Papi.
The Hair Antenna is a variation of the Ahoge where a character possess two Ahoge locks that resemble insect or television antennae. Popularized by Ah! My Goddess and Ken Akamatsu's works Love Hina, Negima! Magister Negi Magi and A.I. Love You, the Hair Antenna acts in a similar manner to a typical Ahoge, often placing emphasis on the character being a ditz, but also represents conflicting character traits.
Lala says her ahoge detects the dead. She also seems to have some control with it and used it as a rudementary limb while she was a lost head in Italy.
Community content is available under
CC-BY-SA
unless otherwise noted.