Ai
Gallery | Quotes | Relationship
Kana
アイ
Romaji
Ai
Voiced by
Yoshie Hirai
Physical Appearance
Monster Species
Monoeye
Gender
Female
Hair
Black
Eye
Grey
Monster Profile
Occupation
Exchange Student
Media Debut
Ai is a Monoeye that appears in Monster Musume: Everyday Life with Monster Girls Online.
Great looks and amazingly smart, she's an almighty, classy lady. Even though she was raised by a strict mother, she participated in the cultural exchange program in order to learn more about the outside world.
Appearance
Edit
Personality
Edit
Skills and Traits
Edit
Zoological Classification
Edit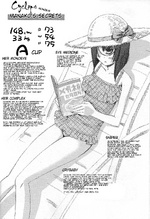 Main article: Monoeye
Monoeyes (単眼種, Monoai, lit. "Single Eye species") are humanoid beings that possess the notable feature of only having one eye.
Monoeyes are able to see objects up to 2km away without assistance; however, they have poor depth perception, making it difficult for them to navigate 3-dimensional spaces, and their eyes require constant protection from harsh environments as their size makes them susceptible to dryness and allergies.

Her name comes from the Japanese way of pronouncing the English word "Eye".

Ai also means "love" in Japanese.