Aluru
Gallery | Quotes | Relationship
Kana
アルル
Romaji
Aruru
Voiced by
Ayaka Shimoyamada
Physical Appearance
Monster Species
Alraune
Gender
Female
Hair
Green
Eye
Amber
Monster Profile
Occupation
Exchange Student
Media Debut
Aluru (アルル) is an Alraune that appears in Monster Musume: Everyday Life with Monster Girls Online.
A lewd, sweet smelling, flower girl, in order to find human partners to pollinate with, like other Alraunes, she left her hometown and came abroad to Japan.
Appearance
Edit
Personality
Edit
Skills and Traits
Edit
| | |
| --- | --- |
| Personality Type | |
| Level Max | 40 |
| Diet | |
Stats

Lvl.1

Max Lvl.

☆

☆☆

☆☆☆

100% Affection

125% Affection

150% Affection

200% Affection

気力
Willpower

384

689

767

845

922

+195

+217

+239

+283

素早さ
Agility

56

101

113

124

135

+24

+28

+31

+37

モン娘力(攻)
Attack

375

672

748

824

899

+169

+191

+212

+255

モン娘力(守)
Defence

192

345

384

423

461

+68

+79

+90

+112
Skills

受粉に興味はあるかしら?

相手モン娘3人に0.8倍のショックを与えるよ!
Attacks 3 opponents once at 0.8x damage

'

'
Zoological Classification
Edit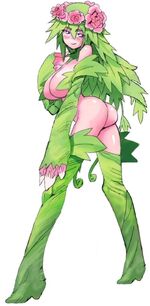 Alraune (アルラウネ, Aruraune) are a psudeo-human sub-species of dryad with flower-like qualities. Like other plant-like species, they are timid and prefer to not move around a lot, but as they use cross-pollination rather than self-pollination to procreate, they do require interaction with other species (primarily humans) and as such are noted for being more friendly toward other species than other plant-like beings.
Noted for being carnivorous (both literally and sexually), the species is known for sharing a symbiotic relationship with Papillions where, as the Alraune lures prey in with their sweet smelling nectar (which also doubles as an aphrodisiac), the Papillion would paralyze the prey with their scales, whereupon they would both feed upon the helpless prey.
The humanoid sections of their body correspond to the flowers of plants, and they resemble extremely beautiful women in order to attract pollination partners.
Her name comes from the Japanese way of pronouncing Alraune, which adds the extra 'u', "Aluraune".