Anura
Gallery | Quotes | Relationship
Kana
アヌラ
Romaji
Anura
Voiced by
Rei Natsu (Karen)
Physical Appearance
Monster Species
Bullywug
Gender
Female
Hair
Green
Eye
Blue
Monster Profile
Occupation
Exchange Student
Media Debut
Game
Monster Musume Online (21/12/2015)
Anura (アヌラ) is a Bullywug that appears in Monster Musume: Everyday Life with Monster Girls Online.
She joins the liminal exchange program after witnessing the bullywug adults mating. Horrified she fled to Japan to become one of many potential homestay boarders for the player to host.
Anura is a slim girl with green skin, green hair, webbed hands and feet, and a frog like tongue that she frequently likes to extend out of her mouth. 
Due to her skin being covered in a film of natural slime, the clothing options for her species are limited. She currently wears a one-piece Sukumizu swimsuit with her name written across the chest panel. As an accessory she also wears a blue headband with large boggle eyes.  
While Anura is a clutzy girl, she is also an earnest and hard worker. She loves the rain and water in general and does not do well in hot/dry environments largely due to her biological nature as a Bullywug.
Bullywug Physiology:

Amphibious: Because of their frog-like biology, Bullywugs are amphibious, which means that they are more dependent on water than many other Liminals. They must soak in water at least once a day, otherwise there is a risk of dehydration. For this reason, Bullywugs cannot tolerate hot, dry temperatures.
Slimy Skin: Her body naturally secretes a slimy substance to keep her skin moist. Because of this, she has to wear special clothing that doesn't easily slide off. If not properly clothed in cold weather, the coating will cause her to freeze quite quickly.

Frog Slime: Skin slime from certain frog species have been found to contain a compound that kills bacteria and viruses.
Moisturizing Lotion: Like Mr. President revealed in Chapter 53, Bullywug slime can be used as a moisturizing lotion for beauty products. The lotion is particularly suitable for the skin care of reptilian Liminals such as Lizardfolks after the moulting process and according to Mr. President the Liminals says it's better than a beauty spa.

Webbing She has webbing between their fingers and toes to aid in swimming.
Swimming: Bullywugs are excellent swimmers.
Extended Prehensile Tongue: Similar to many species of frogs, Bullywugs have extended prehensile tongues that they use to catch their prey.
| | |
| --- | --- |
| Number | No.0002 |
| Rarity | |
| Personality Type | |
| Level Max | 20 |
| Diet | |
Stats

Lvl.1

Max Lvl.

☆

☆☆

☆☆☆

100% Affection

気力
Willpower

192

267

306

345

384

+41

素早さ
Agility

40

56

64

72

80

+24

モン娘力(攻)
Attack

144

200

230

259

288

+43

モン娘力(守)
Defence

96

134

153

173

192

+24
Skills

'

'

Positive Cuteness

Raise Defense of Cute Type Girls by 25%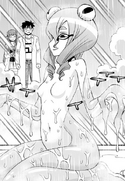 Bullywugs are a psuedohuman species that possess frog-like attributes such as flippers and long, prehensile tongues. The mucus they excrete is an extremely effective moisturizer and prized in beauty products.
As amphibious beings, Bullywugs inhabit wet places such as rainforests, marshes, damp caves or any other environment that is shady/dark and has water nearby. Forming mobile tribal societies that value power through strength, Bullywugs are thought to be fiercely territorial and will aggressively attack any outsiders that approach.
'Anura' is the scientific name for the order of frogs.
The writting on her swimsuit reads ""Frog" (

かえる

Kaeru

?

)".
A Bullywug must immerse itself in water once per day or suffer dehydration.
While a Bullywug is considered to be a subspecies of Lizardfolk, their ecology is closer to that of Fishfolk. Their eating habits are also almost fully carnivorous.
Bullywug breeding is so intense that some people get seriously injured.
Most of the Bullywugs that are singing are male and females are quiet.
Anura is described as a "Dojikko Girl" (ドジっ娘). A Dojikko Girl is an extremely clumsy female (doji means "blunder" in Japanese).
Community content is available under
CC-BY-SA
unless otherwise noted.