Anura
Gallery | Quotes | Relationship
Kana
アヌラ
Romaji
Anura
Voiced by
Karen
Physical Appearance
Monster Species
Bullywug
Gender
Female
Hair
Green
Eye
Blue
Monster Profile
Occupation
Exchange Student
Media Debut
Anura is a Bullywug that appears in Monster Musume: Everyday Life with Monster Girls Online.
As a Bullywug Anura has green skin, webbed hands and feet, and a frog like tongue. 
Anura has a swimsuit on and a blue headband on, with large blue eyes at the sides.  
Bullywug Physiology:

Amphibious:
Slimy Skin: Her body naturally secretes a slimy substance to keep her skin moist. Because of this, she has to wear special clothing that doesn't easily slide off. If not properly clothed in cold weather, the coating will cause her to freeze quite quickly.
Webbing She has webbing between their fingers and toes to aid in swimming.

Swimming: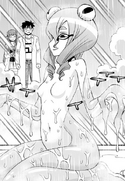 Bullywugs are a psuedohuman species that possess frog-like attributes such as flippers and long, prehensile tongues. The mucus they excrete is an extremely effective moisturizer and prized in beauty products.
As amphibious beings, Bullywugs inhabit wet places such as rainforests, marshes, damp caves or any other environment that is shady/dark and has water nearby. Forming mobile tribal societies that value power through strength, Bullywugs are thought to be fiercely territorial and will aggressively attack any outsiders that approach.
'Anura' is the scientific name for the order of frogs.
The writting on her swimsuit reads ""Frog" (

かえる

Kaeru

?

)".
A Bullywug must immerse itself in water once per day or suffer dehydration.
Community content is available under
CC-BY-SA
unless otherwise noted.