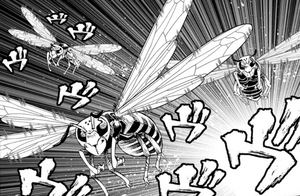 The Asian giant hornet (オオスズメバチ, Ōsuzumebachi?) (Vespa mandarinia) is the world's largest species of hornet, and are native to most parts of Eastern Asia. They prefer to live in tunnels dug in the ground in low mountains and forests and almost completely avoids plains and high altitude climates.
A subspecies of Asian giant hornet, known as the Japanese giant hornet (V. mandarinia japonica), is known for exclusively being found in the Japanese islands.
The stinger of the hornet is about 6 mm (0.24 in) long, and injects an especially potent venom that contains an enzyme that can dissolve human flesh. Masato Ono, an entomologist at Tamagawa University near Tokyo, described the sensation as feeling "like a hot nail being driven into my leg". That being said, the venom is not a particularly toxic venom so one sting is not lethal unless one is allergic, though these hornets can and will sting multiple times.
While hornets and wasps are known to be an aggressive sect of insect, these hornets are especially noted for their aggression and energy, as just one giant hornet can kill up to 40 European bees per minute, with about 3 hornets needing about several hours to eradicate a beehive down to the last larva. Their aggression can be traced to feeding their young crushed prey (adults have lost their ability to digest solid protein), which they in turn secrete what can be colloquially referred to as "Hornet Juice", a form of liquid protein.
The Japanese honeybees, however, have developed a way to counter a giant hornet: lure the hornet inside the hive, then swarm the hornet to immobility into a 500-or-so-numbered giant ball, and then vibrate their wings, raising the ball's temperature until the hornet effectively is cooked to death.
In Japanese, the most typical kanji for Osuzumebachi translates into "giant sparrow bee". In Korea, they are named the "General Wasp" (

장수말벌

Jangsumalbeol

?

), and in China the "Tiger-headed Wasp" (

simplified Chinese: 虎头蜂; traditional Chinese: 虎頭蜂

Hǔ tóu fēng

?

).
As a concept of size, the Osuzumebachi Hornet are known to have a body length of 45 mm (1.8 in).
The Asian giant hornet's predating on bees are largely the reason why European beehives haven't been successful in Asian countries.
This species of hornet typically is responsible for close to 40 human deaths per year.
Community content is available under
CC-BY-SA
unless otherwise noted.