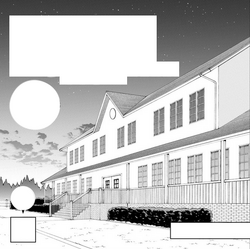 The Black Lily Ranch is a farm ranch owned by the Black Lily Advanced Materials Laboratory.
While possessing livestock like a normal ranch, the Black Lily Ranch is staffed exclusively by female Minotaurs, Pan Fauns, and Satyrs as part of a ploy by the president of the Black Lily Advanced Materials Laboratory to use the ranch to produce and sell Minotaur milk and Pan Faun wool.
For a list of farmhands, see here.

The ranch, and the story arc surrounding it, is possibly inspired by Okayado's Minotaur's Milking Ranch artwork series and its popularity.
Kimihito Kurusu is blackmailed into working at the ranch to pay off the debt his housestay residents unknowingly accumulated while using Black Lily Labs' facilities.
Merino and Cathyl are hired for their expertise in ranch-work as overseers for the newly opened ranch.
The ranch's bath is filled with milk due to the water's temperature causing the girl's breasts to relax and freely lactate while they are bathing. Due to this, the bath is a mixture of Minotaur, Pan and Satyr milk that is said to aid in providing nutrients to the hair and skin.
Community content is available under
CC-BY-SA
unless otherwise noted.