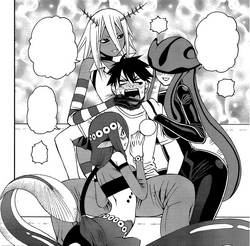 The Blood Suckers is a fan-term used to refer to the trio of Leechi, Yatsume, Moskii, along with Curie, whose shared racial trait between them is that they feed on blood to survive.
The trio consists of a Mosquito-girl, a Lamprey Mermaid-girl and a Leech-girl, all of whom debuted in Chapter 49 of the manga.
Following the Extra Species Cultural Exchange Exhibition it is shown that the three girls, plus Curie, live together in their own apartment.

Moskii is dressed like Shimakaze from

Kantai Collection

.
Okayado states that the chapter where Yatsume, Leechi and Moskii first appeared in Chapter 49 was very incomplete when it was released, and as an apology, he asked fans to choose to be one of the male background characters that appeared in the chapter (that's why they all had numbers). He added them in the final release of the volume, along with fixes on the three girls: a more gyaru appearance for Moskii + two more arms; a more shiny appearance to her skin and suit for Leechi + some sort of eye emojis on her face; more make-up for Yatsume (lipstick, rouge, etc).ms; a more shiny leech + some sort of eye emojis on her face; more make-up for the lamprey girl.
Community content is available under
CC-BY-SA
unless otherwise noted.