Monster Musume: Everyday Life with Monster Girls (モンスター娘のいる日常, Monster Musume no Iru Nichijou) Chapter 45 is the forty-fifth chapter of the Monster Musume: Everyday Life with Monster Girls manga series.
Written and drawn by mangaka Okayado (Inui Takemaru), this chapter was released in Japan on July 19th, 2016, by the Japanese publishing company Tokuma Shoten within the seinen manga and anime magazine, Monthly Comic Ryū.
The chapter was later gathered as part of the series' tankōbon volume Monster Musume: Everyday Life with Monster Girls Volume 11.
Papi brings in Kino, a Matango, to the Kurusu House who accidentally releases her spores inside the house. With the aid of renovations made to the house by Meroune's mother, the Matango's spores were quelled by Kimihito, Centorea and Meroune. Following Kino's placation, Curie attacks Zombina as M.O.N. approaches the house.
Key Events
Edit
It's revealed Killa was not after Kimihito but rather Rachnera, as the Arachne was indirectly the cause of Killa's original deportation.
Kimihito and Cerea return home to find everyone (including themselves) hallucinating due to spores released by a Liminal Papi brought home with her.
It's revealed that Meroune's Mother had contractors greatly expand Mero's room, to be more befitting for a princess.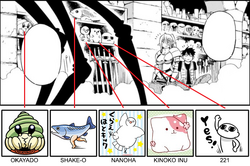 The self-portrait avatars of several mangakas make cameos in Rachnera's pretend shop. Okayado, Shake-O (creator of Nurse Hitomi's Monster Infirmary), Nanoha (creator of The Diary of France), Kinoko Inu (creator of Kinoko Inu (Mushroom Dog)), and 221 (creator of Mako-san to Hachisuka-kun).
Community content is available under
CC-BY-SA
unless otherwise noted.