Monster Musume: Everyday Life with Monster Girls (モンスター娘のいる日常, Monster Musume no Iru Nichijou) Chapter 64 is the sixty-forth chapter of the Monster Musume: Everyday Life with Monster Girls manga series.
Written and drawn by mangaka Okayado (Inui Takemaru), this chapter was released in Japan on August 30th, 2019, by the Japanese publishing company Tokuma Shoten within the seinen manga and anime magazine, Monthly Comic Ryū.
Kimihito and his homestayers are recruited by Ms Smith to help Yukio keep an eye on interactions between humans and liminals during the Sno Ball Hot Spring Resort's "The Dating Pool" mixed-bathing couples events, namely to stop any over-enthusiastic couples from having sex in the onsen and disturbing the other guests. During a phone call to check up on them, Ms Smith reveals that she had called Kimihito and his homestays as a means to; one, help supplement the money they had spent overseas at the Lamia Village and to prevent the Black Lily Advanced Materials Laboratory from taking production rights of the resort from the government. After managing to diplomatically stop a Kitsune and a Dryad from having sex with their chosen men in the onsen, Kimihito is faced with trying to stop a group of succubi from starting an orgy before Papi's childish questioning of their intentions makes them lose their mood for sex.
Key Events
Edit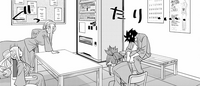 This chapter was originally slated to be released on August 9th, 2019, but Comic Ryu later moved the release date to the 30th instead due to an "issue with corrections to the manuscript".
Hitomi and Kenshiro from Nurse Hitomi's Monster Infirmary make a cameo walking around the resort.
The Shark Mermaid Mako from Everyday Life With Bicycle Cop can be seen flirting with a human in the hotsprings.
The application form Okayado posted on his twitter page to allow fans to apply to appear in this chapter can be seen pinned on the wall of the Sno Ball Hot Spring Resort staff room.
According to the official twitter page, the Yakiniku franchise that Smith eats at first appeared in Chapter 25.
Community content is available under
CC-BY-SA
unless otherwise noted.