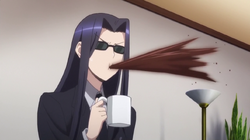 Coffee (コー​​ヒー, Kōfī) is a brewed drink prepared from roasted berry seeds from the coffea plant.
One of the most popular drinks in the world, coffee can be prepared and presented in a variety of ways (e.g., espresso, cappucino, cafe latte, hot/iced, etc.) and has a stimulating effect on humans because of its caffeine content.
The earliest credible evidence of coffee-drinking appears in the middle of the 15th century in the Sufi shrines of Yemen, Southern Arabia, where coffee was used in local religious ceremonies. Over time, the coffee bean was either traded or smuggled overseas to various countries and is now one of the highest traded commodities in the world.
Coffee beans are one of the most traded agricultural commodities in the world.
The effect of coffee on human health has been a subject of many studies; however, results have varied in terms of coffee's relative benefit. The majority of recent research suggests that moderate coffee consumption is benign or mildly beneficial in healthy adults. However, the diterpenes in coffee may increase the risk of heart disease.
In Episode 9 the can of coffee Draco gives to Miia has a picture of Smith's face on it, and the brand is called "Smith Coffee".
There exists an impression in Japan that adults drink "black" coffee while children drink coffee with cream/milk. As such those who drink black coffee are considered to be more mature than those that drink with cream/milk.
Community content is available under
CC-BY-SA
unless otherwise noted.