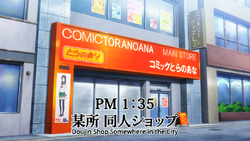 Comic Toranoana (コミックとらのあな) is a major Japanese retail franchise for otaku culture specializing in doujin and manga material.
Originally a small doujin shop located on the third floor of the Kambayashi building in Akihabara in 1993, Comic Toranoana changed the landscape of the district's main street, Chuo avenue, when it began to prominently display giant banners of anime and manga art from the face of its new, multi-story store in 1996. Soon, competing retailers copied their advertisement strategy and the avenue became swathed with banners and posters of anime, manga and videogame characters.
Now possessing multiple stores in multiple cities, the company is one of the leading retailers of otaku goods in the country, specializing in doujin works.
In the Monster Musume: Everyday Life with Monster Girls anime, the store is held hostage by a group of Orcs calling themselves the Orc Pioneer Federation in the anime series. Demanding that Japan increase the amount of Orc-oriented content in mainstream erotic manga, the Orcs held the store staff at gunpoint until they were defeated by the MONster's New Law squad.
Location Design
[
]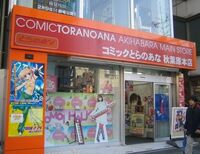 The store featured in Species 7: Everyday Life with MON and an Arachne is based on Comic Toranoana store B, located in Akihabara, Tokyo. Located next door to the main store, this store features an exclusive floor for women-oriented goods (otaku goods aimed at women).
Gallery
[
]
Trivia
[
]
Comic Toranoana is named after the pit used to train wrestlers in the manga series

Tiger Mask

.
In the manga series, a doujin store named Libido Doujin is held hostage instead of Comic Toranoana.
The introduction image of Comic Toranoana had the store's theme song Koko da yo! (It is here!)(composed by UNDER17) playing before it was interrupted by the Orc's bullets.
The company's mascot is a tiger-girl named Coco-chan. Coco-chan stars in her own online comic published by Comic Toranoana titled Tiger.Online