Plot
Monsters—they're real, and they want to date us!
Three years ago, the world learned that harpies, centaurs, catgirls, and all manners of fabulous creatures are not merely fiction; they are flesh and blood—not to mention scale, feather, horn, and fang. Thanks to the "Cultural Exchange Between Species Act," these once-mythical creatures have assimilated into society, or at least, they're trying.
When a hapless human named Kimihito Kurusu is inducted as a "volunteer" into the government exchange program, his world is turned upside down. A snake-like lamia named Miia comes to live with him, and it is Kimihito's job to take care of her and make sure she integrates into his everyday life. Unfortunately for Kimihito, Miia is undeniably sexy, and the law against interspecies breeding is very strict. Even worse, when a ravishing centaur girl and a flirtatious harpy move in, what's a full-blooded young man with raging hormones to do?!
Featured Image
Featured Article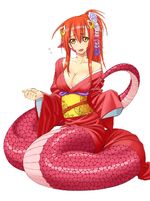 The Lamia are a reptilian liminal race with the upper body of a human and the lower body of a snake. A mono-gendered (female) demi-human race, Lamias are predatory carnivores that form tribal villages on the outskirts of desert oases, their serpentine tails are powerful enough to rend steel.
Categories
Affiliates
Related Sites/Forums
How To Help
Because this is a wiki, you are able to add or edit any content on this site.
Everything already here was made by Monster Musume fans like you.
Think something is missing? To create a new article, just enter the title in the box below.
Not ready to make your own article yet?
Community content is available under
CC-BY-SA
unless otherwise noted.