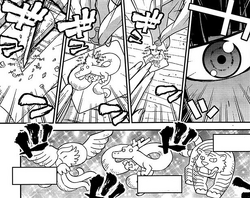 Diecut Candy (Katanuki (カタヌキ)) is an activity common at Japanese festivals in which a coloured mold of candy made of wheat flour, starch, or sugar, is carved using a needle or toothpick into a shape (usually an animal, star, or a cherry blossom).
The aim of the game is to carve out as many shapes as possible without causing the mold to break. Those who are able to skilfully carve the mold receive a prize, the more complicated and intricate the mold, the more valuable the prize.
The official name for katanuki is katanukigashi (型抜き菓子), lit. diecut candy, but it is commonly called katanuki (かたぬき) or simply nuki (ぬき).
Community content is available under
CC-BY-SA
unless otherwise noted.