Elda
Gallery | Quotes | Relationship
Kana
エルダー
Physical Appearance
Monster Species
Devil
Gender
Female
Hair
White
Eye
Purple
Monster Profile
Occupation
Exchange Student
Media Debut
Elda is an Elder Devil that appears in Monster Musume: Everyday Life with Monster Girls Online.
As an official of the liminal exchange program Elda helps the homestay girls reach their full potential by raising their level cap without using a duplicate card.
Appearance
Edit
Skills and Traits
Edit
Zoological Classification
Edit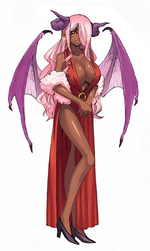 Main article: Devil
Elder Devils (エルダーデビル Erudā Debiru?) are devils that have the bodies of humans in their adulthood. Appearing even older than Greater Devils, they are the voluptuous/highest class of Devil, and boasts the largest average wingspan.
Though it's unclear if it's because of their older apparent age, Elder Devils have the longest lifespans of all Devil species, and it's not uncommon for members to live several centuries. It might have to do with the their extremely long lifespans, but Elder Devils are quite calm and composed, and are beyond playing pranks.
Elda's name is lifted from her devil subspecies (Elder).
Community content is available under
CC-BY-SA
unless otherwise noted.