Eris
Gallery | Quotes | Relationship
Physical Appearance
Monster Species
Elf
Gender
Female
Monster Profile
Occupation
Exchange Student
Media Debut
Eris (エリス) is a Elf that appears in Monster Musume: Everyday Life with Monster Girls Online.
As an elf Eris has long pointy ears, still mostly looking human. She has long blonde hair that splits off to the sides, and she has green eyes. 
She is usually seen carrying around a harp, she wears a blue and pale green dress with an opening at the chest, with a white short thin dress to cover her chest. She also has on curly toe shoes. 
| | |
| --- | --- |
| Personality Type | |
| Level Max | 40 |
| Diet | |
Stats

Lvl.1

Max Lvl.

☆

☆☆

☆☆☆

100% Affection

125% Affection

150% Affection

200% Affection

気力
Willpower

506

907

+

+

+

+

素早さ
Agility

74

132

+

+

+

+

モン娘力(攻)
Attack

221

396

+

+

+

+

モン娘力(守)
Defence

216

387

+

+

+

+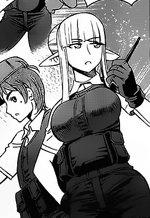 Elves (or Alfs, Albs, Alfr) are a humanoid liminal species that are physically identical to humans in nearly every way but for their ears being more elongated than a typical human's ears.
Described in (Norse-)germanic mythology (called "Alfr" or "Albs") as a highly magically inclined race, they are legendary for possessing long lifespans and slender/attractive figures; bearing no cosmetic imperfections or blemishes.

In Norse-Germanic Mythology, Elves are nature spirits. They can give humans good or bad dreams, see the german word "Albtraum" (alb dream means "nightmare" in german).
In Norse-Germanic Mythology, Elves are divided in three species. Light Elves (Ljósálfar), Dark Elves (Dökkálfar) and Black Elves (Svartálfar, Dwarfs).
They are very popular and can be found in the most Fantasy articles.
Community content is available under
CC-BY-SA
unless otherwise noted.