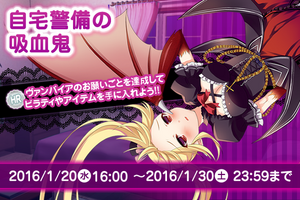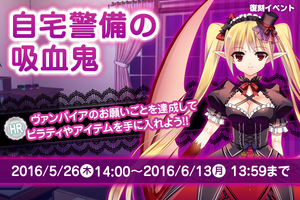 Bat of home security is the third Game Event to arise in Monster Musume: Everyday Life with Monster Girls Online.
Running from 20/1/2016 to 30/1/2016. The event is themed around a Bat Monster Girl called Pirati. The event features 3 new maps, a bunch of quests and a new monster girl for the player to find and acquire.
The event had a reboot between 26/5/2016 to 13/6/2016, with an updated rewards list to accommodate Shop coins and Love Burst items (Back Scratcher, etc.).
Event Characters

[

]
Event Quests

[

]
| Beginner Quests: | Rewards: |
| --- | --- |
| I will clear beginner's class - once! | 2 Rubies |
| I will clear beginner's class - three times! | 2 Normal Tickets |
| I will clear beginner's class - five times! | 2 Bronze Creams |
| I will clear beginner's class - ten times! | 3 Normal Tickets |
| 15 times will clear beginner's class! | 1 Normal Exp Cool Girl |
| 20 times will clear beginner's class! | 3 Bronze Creams |
| 30 times will clear beginner's class! | 4 Normal Tickets |
| 40 times will clear beginner's class! | Pirati |
| 50 times will clear beginner's class! | 1 Green Ticket |
| 75 times will clear beginner's class! | 1 Silver Cream |
| 100 times will clear beginner's class! | 2 Rubies |
| Intermediate Quests: | Rewards: |
| --- | --- |
| I will clear intermediate - once! | 2 Rubies |
| I will clear intermediate class - three times! | 1 Normal Exp Cool Girl |
| I will clear intermediate class - five times! | 1 Rare Exp Cool Girl |
| I will clear intermediate class - ten times! | 1 Silver Cream |
| 15 times will clear intermediate! | Pirati |
| 20 times will clear intermediate! | 1 Gold Cream |
| 30 times will clear intermediate! | Pirati |
| 40 times will clear intermediate! | 1 Green Ticket |
| 50 times will clear intermediate! | Pirati |
| 75 times will clear intermediate! | 2 Gold Cream |
| 100 times will clear intermediate! | 1 Rare Ticket |
| Hard Quests: | Rewards: |
| --- | --- |
| I will clear hard's class - once! | 1 Ruby |
| I will clear hard's class - three times! | 1 Rare Exp Cute Girl |
| I will clear hard's class - five times! | 2 Silver Cream |
| I will clear hard's class - ten times! | 2 Rare Exp Cool Girl |
| 15 times will clear hard's class! | 1 Green Ticket |
| 20 times will clear hard's class! | 2 Gold Creams |
| 30 times will clear hard's class! | 3 Rare Exp Cool Girl |
| 40 times will clear hard's class! | 1 Rare Ticket |
| 50 times will clear hard's class! | Elda |
| 75 times will clear hard's class! | 3 Gold Creams |
| 100 times will clear hard's class! | 3 Rubies |
Event Maps

[

]
E-1 - Beginner
[
]
Beginner
Difficulty

☆☆☆

Stamina Consumption

20

Monster Type

Player Exp Awarded

50
Adversaries
Encounters
Monster Girls
Encounter Drops

B

: Sea / Rus / Qukuru

E

: Em / Haru
: Sea / Qukuru

H

: Pirati
: Kyure / Rei
: Rohe / Rus
:

:
Events
Events
Event Drops

a

x5

c

x5

d

x5

f

x5
Completion Awards
Tier 1 (600)
Tier 2 (900)
Tier 3 (1800)
E-2 - Intermediate
[
]
Intermediate
Difficulty

☆☆☆☆

Stamina Consumption

25

Monster Type

Player Exp Awarded

60
Events
Events
Event Drops

a

x5

c

x5

d

x5

f

x5 / Normal Ticket x1

h

x5 / Normal Ticket x1
Completion Awards
Tier 1 (600)
x10
Tier 2 (900)
x10
Tier 3 (1800)
: Sea / Rohe / Rus / Qukuru
E-3 - Advanced -
[
]
Advanced
Difficulty

☆☆☆☆☆

Stamina Consumption

30

Monster Type

Player Exp Awarded

70
Adversaries
Encounters
Monster Girls
Encounter Drops

A

F

H

I

L
Events
Events
Event Drops

b

x5

c

x5 / Cream x1

d

x5

e

x5

j

x5

m

x5

n

x5 / Normal Ticket x1

k

x5 / Normal Ticket x1
Completion Awards
Tier 1 (600)
Tier 2 (900)
Tier 3 (1800)
Trivia
[
]
Links
[
]
First time = http://monmusugame.com/gadget/annex/information/topic/event/04_event.html
Second time = http://monmusugame.com/gadget/annex/information/topic/event/15_eventF.html