Fere
Gallery | Quotes | Relationship
Kana
フェレー
Romaji
Ferē
Voiced by
Aiko Okubo
Physical Appearance
Monster Species
Wyvern
Gender
Female
Hair
Pink
Eye
Gold
Monster Profile
Occupation
Exchange Student
Media Debut
Fere is a Wyvern that appears in Monster Musume: Everyday Life with Monster Girls Online.
Wyvern Physiology:

Wings: Unlike Dragonewts, the wings and arms of Wyverns are merged, making their wings large enough, unlike Dragonewts, to enable Wyverns to fly. However, since Wyverns have no hands, but like Harpies only an opposable thumb, their hand motor skills are much more limited than those of Dragonewts.
Aggressive Nature: Wyverns are much wilder than normal Dragonewts or Ryu-Jin and can be extremely aggressive.
| | |
| --- | --- |
| Personality Type | |
| Level Max | 40 |
| Diet | |
Stats

Lvl.1

Max Lvl.

☆

☆☆

☆☆☆

100% Affection

気力
Willpower

370

663

738

813

888

+155

素早さ
Agility

78

139

154

170

185

+73

モン娘力(攻)
Attack

278

498

554

610

666

+137

モン娘力(守)
Defence

185

332

369

407

444

+91
Skills

'

Attacks 2 targets twice at 0.7 times damage.

'

Reduces damage taken by 25%.

'
Main article: Dragonewt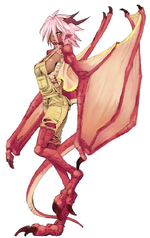 Wyverns (ワイバーン, Waibān) are a subspecies of Dragonewt.
Unlike Dragonewts, their arms and wings are one, meaning their wings are large enough to fly instead of gliding, and they are very good fliers. They are much more wild than the usual dragonewt and ryu-jin, and are extremely aggressive. However, it might be because they perhaps resemble harpies, they are not particularly intelligent, and they are easily deceived.

In WarCraft, Wyverns are ridden by Orc spear-throwers.
Community content is available under
CC-BY-SA
unless otherwise noted.