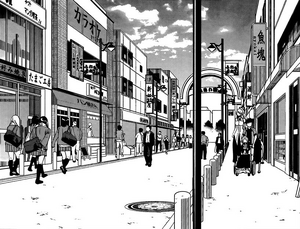 Friendly Connections Market (ふれあい商店街 Fureai Shōtengai) is a shopping street located near Kimihito Kurusu's house in Tokyo.
With the area marked by an overhead sign that is typical of Japanese shopping streets/arcades, many neighborhood-owned shops reside along the shared pedestrian avenue.
Such shops include butcheries, bread and cake bakeries, fishmongers, locally-grown vegetable stalls, karaoke clubs, breweries, several eateries and various cafes.
As is the case with many of the shopping districts in Japan, many of the shopping street's shops are family run/owned businesses that have been passed down from generation to generation. Due to this, the shops share their own community and often act to support each other through complimentary and/or symbiotic relationships (the fishmonger, butcher, green grocer, baker, etc) although competitive business between shops is not unheard of, 'specially between cafe's and restaurants (which often results in family feuds).
The parents of some of the Neighborhood Kids own and run shops within the arcade.
With the street's main source of income coming from commuters and school students, they are in constant competition against company supermarkets and malls.
The district's business is overseen by a local committee that is usually made up of shop owners or persons otherwise invested in the area. This committee liaise with the local council and ensures the district's cleanliness and productivity.
Community content is available under
CC-BY-SA
unless otherwise noted.