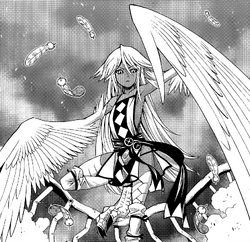 Ganguro is a fashion trend among Japanese youth that started in the mid-1990s. The style is distinguished by a dark tan and white make-up liberally applied around the eyes that gives an impression that has been referred to as "Panda eyes" (due to the white eye makeup being similar to the white fur around a panda's eyes).
Usually found in the Shibuya and Ikebukuro districts of Tokyo, the Ganguro fashion was started by youth who wished to rebel against the traditional Japanese concept of beauty (pale skin, dark hair and neutral makeup tones) by tanning their skin, bleaching their hair and wearing brightly coloured outfits.
The first Ganguro to appear in the series was back in Chapter 2, the unnamed female of The Racist Couple; it should be noticed that she's drawn in an extremely unattractive manner.
Although she started with a natural skin colour, Papi's mother took up Ganguro fashion after her husband expressed that he liked the look.
Ganguro falls into the larger subculture of "gyaru", a slang term used for various groups of young women, usually referring to overly childish women. Researchers in the field of Japanese studies believe that ganguro is a form of revenge against traditional Japanese society due to resentment of neglect, isolation, and constraint of Japanese society. This is their attempt at individuality, self-expression, and freedom, in open defiance of school standards and regulations.
Community content is available under
CC-BY-SA
unless otherwise noted.