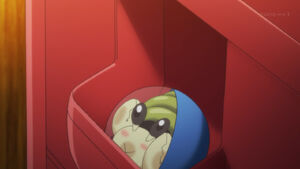 Gashapon (ガシャポン) are a variety of vending machine-dispensed toys that are noted for being packed within plastic balls, or 'Capsules", of varying size.
Imported from the USA in 1977 by Bandai, Gashapon machines are similar to the coin-operated toy vending machines seen outside of grocery stores and other retailers in other countries. While American coin-operated vending toys are usually low-quality products sold for a few quarters (US$1 or less), Japanese gashapon can cost anywhere from ¥100–500 (US$1–6) and are normally a much higher-quality product. They are often constructed from high-grade PVC plastic, and contain more molding detail and intricately painted features.
"Gashapon" is a Japanese onomatopoeia composed of two sounds: "gasha" (or "gacha") for the sound of a crank on a toy vending machine, and "pon" for the sound of the toy capsule dropping into the receptacle.
Many gashapon are considered collector's items, with rare ones fetching extremely high prices in secondhand markets.
Virtually all gashapon are released in sets—each series will have a number of figures to collect. They are, by nature, a "blind purchase"; people insert coins and hope to get the toy or figure they desire. Such an amusement element may become frustrating, as one risks obtaining the same capsule repeatedly.
Community content is available under
CC-BY-SA
unless otherwise noted.