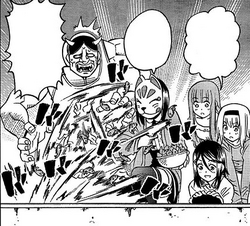 Goldfish Scooping (金魚すくい, 金魚掬い Kingyo-sukui) is a traditional Japanese game in which a player scoops goldfish with a special scooper. Japanese summer festivals or ennichi commonly have a stall for this activity. Both children and adults enjoy the game.
In the game the player scoops goldfish from a pool with a paper scooper called a "poi" and puts them into a seperate, water-filled, bowl. The game is over when the poi's paper is completely broken (due to being drenched in water) or incapable of scooping properly.
In competitions, the player with the most goldfish scooped into their bowl wins.
In some festivals, players can take the scooped goldfish home in a special bag provided by the stall keeper.
In an easier variation of the game, small bouncy balls are used instead of goldfish.
In another variation of the game, Medaka (Japanese killifish), which are faster and harder to catch than goldfish, are added to increase the game's difficulty. Catching one Medaka is the equivalent of catching four goldfish in terms of points.
Community content is available under
CC-BY-SA
unless otherwise noted.