Haru
Gallery | Quotes | Relationship

Kana
ハル
Romaji
Haru
Voiced by
Ayaka Shimoyamada
Physical Appearance
Monster Species
Raptor Harpy
Gender
Female
Hair
White
Eye
Gold
Monster Profile
Occupation
Exchange Student
Media Debut

Haru is a Raptor Harpy that appears in Monster Musume: Everyday Life with Monster Girls Online.
Appearance
Edit
Haru's appearance are similar to those of a Gyrfalcon (White Falcon), being purely carnivorous, causing an increased protein intake leads to her body being fuller and far more mature in appearance, as all Raptor Harpy are strong and proud, and are not as easily-impressed by other harpies, they are one of the most intelligent of the harpy species.
Her Original/main clothings are comprised of a white sleeveless shirt with a white bomber-jacket and a torn-up jeans.
Her alternative/Swimsuit clothing is very similiar to her original, but only her jeans are ripped, exposing her legs a little bit, and her top is a blue polo, but her overall appearance still remains the same, except that her feathers became a little darker than it's original snowy color and she seems to have a tan, likely due to being expose to much under the Sun.
Personality
Edit
Skills and Traits
Edit
Raptor Harpy Physiology:

Carnivorous Diet: Unlike other harpies (who are usually omnivorous), Raptor Harpies are strictly carnivores and due to their size, have to consume a lot of meat each day.
Resistance to Cold: Being adorned with feathers, Raptor Harpies evolved to last in cold places.
Good senses and Night Vision: Due to inheriting Raptor traits, they evolved to have good hearing from long distances, and "night vision" to help them see better at night.
Wings: Since Raptor Harpies evolved bigger bodies, they can fly faster than a normal harpy.
Superhuman Strength: Due to being the larger and predatory side of the Harpy family, Raptors evolved to be bigger and stronger than a normal harpy, able to catch prey the size of deers.
| | |
| --- | --- |
| Personality Type | |
| Level Max | 30 |
| Diet | |
Stats

Lvl.1

Max Lvl.

☆

☆☆

☆☆☆

100% Affection

125% Affection

150% Affection

200% Affection

気力
Willpower

262

418

470

523

576

+68

+

+

+

素早さ
Agility

66

106

118

131

144

+42

+

+

+

モン娘力(攻)
Attack

177

283

318

354

389

+52

+

+

+

モン娘力(守)
Defence

118

189

212

236

259

+34

+

+

+
Skills

Long talk

Attacks twice, dealing 0.7 times the damage each hit to one rival Monster Girl!

'

'
Zoological Classification
Edit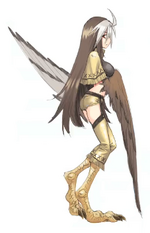 Main article: Harpy
Raptor Harpys (猛禽種, Mōkin-shu) are a large eagle or hawk-like demihuman subspecies of Harpy. Their bodies are very similar to human bodies. Though other Harpy subspecies are omnivorous, Raptor Harpies are carnivores. They are proud and difficult to please, an unusual trait among the generally amicable Harpies.

Her coloration is based off the

Gyrfalcon

(White Falcon). As seen from her wings with white coloration and black stripes and her hair being snowy-white as well.
Haru is Japanese for Spring.
Community content is available under
CC-BY-SA
unless otherwise noted.