Haru
Gallery | Quotes | Relationship

Kana
ハル
Romaji
Haru
Voiced by
Ayaka Shimoyamada
Physical Appearance
Monster Species
Raptor Harpy
Gender
Female
Hair
White
Eye
Gold
Monster Profile
Occupation
Exchange Student
Media Debut
Game
Monster Musume Online (21/12/2015)

Haru (ハル) is a Raptor Harpy that appears in Monster Musume: Everyday Life with Monster Girls Online.
She joins the liminal exchange program to become one of many potential homestay boarders for the player to host.
As is common with Raptor Harpies, Haru's body proportions are similar to the proportions of an adult female human; with ample breasts and pronounced hips. Possessing a light skin tone, silver hair, elven ears and golden eyes, the feathers of her wings are of a white coloration, speckled with black stripes.
Her wardrobe of choice comprises of a white tank-top worn underneath a white short-sleeved hooded jacket (embroidered with a feathered emblem and a feathered collar) and a pair of torn-up denim jeans (with white panties). Gold earrings studded with sapphires, a collar necklace and a belt clasp also made of gold and complimented by sapphires completes her ensemble.
Her alternative (bathing) attire is a blue button down shirt and denim shorts.
Haru is an intelligent but quiet woman, essentially a gentle "cool beauty" or a "Kuudere", who is driven to practicing and refining her hunting skills. She spends most of her time hunting throughout the day, catching birds and the like and offering them to the homestay host to cook for meals. To this end, while she is seemingly slow to anger, she will take great offence if someone she gives a "present" (freshly killed prey) to discards it immediately.
By the time of her "Bathing" variant, Haru had found her place to call home and now spends her days leisurely. Having released the tension she used to have when first arriving, she now only occasionally leaves the house to hunt for prey instead of all day, every day, like she used to.

Raptor Harpy Physiology:

Carnivorous Diet: Unlike other harpies (who are usually omnivorous), Raptor Harpies are strictly carnivores and due to their size, have to consume a lot of meat each day.
Resistance to Cold: Being adorned with feathers, Raptor Harpies evolved to last in cold places.
Good senses and Night Vision: Due to inheriting Raptor traits, they evolved to have good hearing from long distances, and "night vision" to help them see better at night.
Wings: Since Raptor Harpies evolved bigger bodies, they can fly faster than a normal harpy.
Superhuman Strength: Due to being the larger and predatory side of the Harpy family, Raptors evolved to be bigger and stronger than a normal harpy, able to catch prey the size of deers.
Advanced Eyesight: A Raptor Harpy's eyesight is ten times more powerful than that of a human's.
| | |
| --- | --- |
| Number | No.0023 |
| Rarity | |
| Personality Type | |
| Level Max | 30 |
| Diet | |
Stats

Lvl.1

Max Lvl.

☆

☆☆

☆☆☆

100% Affection

125% Affection

150% Affection

200% Affection

気力
Willpower

262

418

470

523

576

+68

+

+

+

素早さ
Agility

66

106

118

131

144

+42

+

+

+

モン娘力(攻)
Attack

177

283

318

354

389

+52

+

+

+

モン娘力(守)
Defence

118

189

212

236

259

+34

+

+

+
Skills

Long talk

Attacks twice, dealing 0.7 times the damage each hit to one rival Monster Girl!

'

'
| | |
| --- | --- |
| Number | No.0108 |
| Rarity | |
| Personality Type | |
| Level Max | 40 |
| Diet | |
Stats

Lvl.1

Max Lvl.

☆

☆☆

☆☆☆

100% Affection

125% Affection

150% Affection

200% Affection

気力
Willpower

308

552

614

+128

+

+

+

素早さ
Agility

88

159

177

+73

+

+

+

モン娘力(攻)
Attack

346

620

690

+164

+

+

+

モン娘力(守)
Defence

173

310

345

+91

+

+

+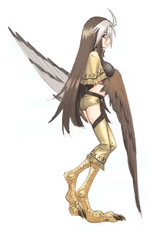 Main article: Harpy
Raptor Harpies (猛禽種, Mōkin-shu) are a large eagle or hawk-like demihuman subspecies of Harpy. Their bodies are very similar to human bodies. Though other Harpy subspecies are omnivorous, Raptor Harpies are carnivores. They are proud and difficult to please, an unusual trait among the generally amicable Harpies.

Haru (Bathing) was first introduced to the game alongside Rachnera Arachnera (Swimsuit) and Suu (Cheerleader) on March 31st, 2016.
Haru's coloration is based off the

Gyrfalcon

(White Falcon). As seen from her wings with white coloration and black stripes and her hair being snowy-white as well.
"Haru" is Japanese for "Spring".
Haru was ranked high in the "1st Monmusume Online Popularity Vote" and as a result a small change will occur if the player equips her with the fashionable glasses accessary.
Haru claims that she once fought a bear that had wondered down from the mountainside and successfully managed to fight it off.
She admits that she finds parks and zoos frustrating because they are filled with prey but she is not allowed to hunt them.
Community content is available under
CC-BY-SA
unless otherwise noted.