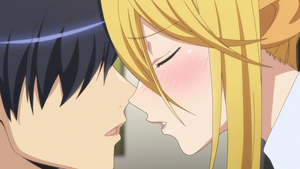 The Headbutt Thermometer is a method used to check someone's temperature by touching foreheads together.
With the nerves on the forehead, an individual can then feel the difference in temperature of the other forehead and judge whether or not the individual has a higher body temperature then they do.
Due to the extreme level of proximity required in order perform this method, the act is often considered an intimate act between individuals.
Despite its intimacy, this method is often considered much more effective then using other body parts (such as the back of a hand) as different areas of the body have different temperatures and thusly makes it difficult to judge if the temperature is different than normal.
Community content is available under
CC-BY-SA
unless otherwise noted.