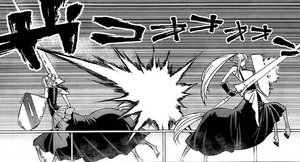 Jousting is a martial game held between two horsemen wielding lances who charge at each other in repeated attempts to dislodge the other from their horse. The game often occurs as part of a tournament.
The primary aim of the game is to replicate heavy cavalry combat, however, while in actual combat the goal is to impale the opponent upon the lance, Jousting participants only aim to use their lances (which are blunted to avoid impalement) to either "unhorse" their opponent (resulting in an immediate win in some tournaments) or to break their lance upon their opponent's shield or armour.
A jousting match consists of a number of runs or passes (the number of which varied between tournaments). Points are awarded for each pass depending upon the quality of the hits scored, the winner being the person who accumulates the most points at the end of the match.
While each tournament typically had its own point system, each system usually revolved around the strength and accuracy of the delivered lance blows. For example, in some tournaments, maximum points are awarded when the horseman strikes the opposing knight on the chest, while in other tournaments, striking the center of the opposing knight's shield yielded maximum points. In addition, the affect the attack had on the lance may also yield points:
+1 point for a hit that does not break the tip of the lance.
+2 points for a hit that does break the tip of the lance.
+3 points for a hit that shatters the tip of the lance into multiple fragments.
Penalties can be awarded for various rules infractions. Minor infractions such as not presenting a good target, not cantering or galloping, or throwing the lance away result in points deductions. More serious infractions such as striking a horse or causing an injury to an opponent by striking off-target results in automatic disqualification - either from a match or in more severe cases from the tournament itself.
A participant (or "Knight") is allowed to have one assistant (called a "Squire") to aid them in the tournament. If a knight falls then only the Squire may help him up. When the lance is broken only the squire may hand the knight a new lance. Only the squire may talk to the knight when preparing the horse for the next charge.
Community content is available under
CC-BY-SA
unless otherwise noted.