Kalolo
Gallery | Quotes | Relationship

Kana
カロロ
Romaji
Karoro
Voiced by
Atsuko Kato
Physical Appearance
Monster Species
Jakalope
Gender
Female
Hair
Silver
Eye
Blue
Monster Profile
Occupation
Exchange Student
Media Debut
Kalolo is a Jackalope that appears in Monster Musume: Everyday Life with Monster Girls Online.
Kalolo is around 5 feet tall. She wears a bikini with the colors of the American Flag,along with two stars on her left side. She also wears extremely low-cut jeans. She possesses rabbit ears and antelope horns,hence the name "Jackalope". She also has fur that goes a little under her elbows,and the same pattern goes for her legs,being the fur cuts off a little below the knee.
Jackalope Physiology:

Sexual Libido: Much like Satyrs, Usagimimi (Rabbitgirls) have a hyper strong libido that leads to their active pursuit of sex and all things sexual.
High Fertility: Usagimimi (Rabbitgirls) also have an incredibly high fertility rate, often able to become impregnated with a child while still pregnant with a previous child. This process is normally referred to as Superfetation.
Lactation: Much like Minotaurs, Pan Fauns and Satyrs, Jackalopes lactate constantly and her breasts will become swollen and uncomfortably heavy if they are not milked regularly.
Jackalope Breast Milk: Jackalope breast milk is said to be a remedy for all ills and diseases. Some stores in North America are known to sell Jackalope Milk, however, these stores are rare as, according to folklore, milking a Jackalope is said to be fraught with risk.
Voice Imitation: Jackalopes are extremely skilled at imitating the voices of other people.
Alcohol Arousal: Jackalopes become extremely aroused when drunk and immediately go into heat like other liminal races do during a Full Moon.
| | |
| --- | --- |
| Personality Type | |
| Level Max | 20 |
| Diet | |
Stats

Lvl.1

Max Lvl.

☆

☆☆

☆☆☆

100% Affection

気力
Willpower

202

281

322

363

404

+

素早さ
Agility

42

59

67

76

84

+

モン娘力(攻)
Attack

152

211

242

273

303

+

モン娘力(守)
Defence

101

141

161

182

202

+
Skills

'

'

Cute Step

Raise Speed of Cute Type Girls by 25%.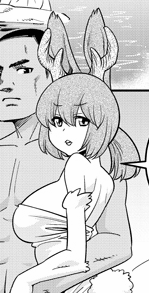 Jackalopes are a demihuman species from North American folklore. Similar in appearance to the Usagimimi (Rabbitgirl), save for the addition of deer antlers, Jackalopes are said to be aggressive and so dangerous that hunters and lumberjacks are advised to wear armour to keep from being gored by their antlers.
According to legend, during the days of the Old West, when cowboys gathered by the campfires singing at night, Jackalopes could be heard singing along. It is also said that Jackalopes only breed during lightning flashes and that their antlers make the act difficult despite the hare species' reputations for fertility.
While the Jackalope species is predominantly found in North America, stories of sightings of "horned rabbits" have risen in Asia, Africa and Europe.
Community content is available under
CC-BY-SA
unless otherwise noted.