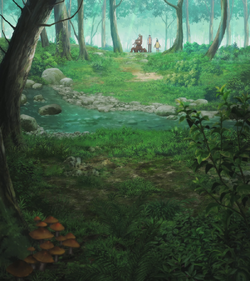 Kii's Forest is a dryad forest located on the outskirts of Tokyo.
After escaping from people traffickers, the Dryad Kii was taken to this forest for safety by Papi during one of her wanderings. As Papi promptly forgot about her, the pollution within the forest caused Kii to mutate into a colossus until she was unwittingly encountered and subdued by Papi, Kimihito, Suu and Zombina.
Allowed to stay within the forest, Coordinator Smith had the area cleaned of pollution as Kii's nature as a dryad lead to the forest's exemplary growth; resulting in the forest possessing numerous exotic plants not found anywhere else in the area.
Following the accidental discovery/creation of a natural hotspring following an effort by Polt, Kimihito and Tionishia to clear the forest of some debris, Polt was allowed to create a sauna to compliment the hotspring. The sauna proved instrumental in subduing Killa during her attack on Kimihito.
After being kidnapped with the intention of being sold as merchandise and then mutated by refuse, Kii has a deep-seated dislike for humans, and as such prefers to live within the forest than take on a host family despite Smith's attempts to convince her otherwise.
Community content is available under
CC-BY-SA
unless otherwise noted.