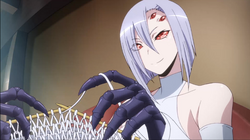 Knitting is a method similar to weaving, where yarn is manipulated into specific layouts to create a textile or fabric.
Performed by hand or by using a machine, different types of yarns (fibre type, texture, and twist), needle sizes, and stitch types may be used to achieve knitted fabrics with diverse properties (colour, texture, weight, heat retention, water resistance, and/or integrity).
Originally a skill that was developed for the basic human need for clothing for protection against the elements. Skilled knitting techniques seem to have been developed around the 3rd century. In modern times, hand knitting has become less a necessary skill and more a hobby.
Rachnera Arachnera uses her own Spider Silk to knit her own clothes.
The oldest artifact with a knitted appearance is a type of sock that was produced around 200-500 AD.
Some charities teach women to knit as a means of clothing their families or supporting themselves.
Studies have shown that hand knitting, along with other forms of needlework, can "help prevent and manage stress, pain and depression, which in turn strengthens the body's immune system", as well as create a relaxation response in the body which can decrease blood pressure, heart rate, help prevent illness, and have a calming effect.
Hand knitting has been linked to reducing the risk of developing Alzheimer's disease and dementia. Much like physical activity strengthens the body, mental exercise makes the human brain more resilient.
Community content is available under
CC-BY-SA
unless otherwise noted.