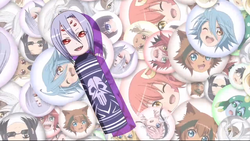 A Kokeshi (こけし こけし) is type of a Japanese doll originally found in northern Japan.
Traditionally handmade from wood, Kokeshi have a cylindrical trunk for a body and an enlarged head with a few thin, painted lines to define the face.
The body usually has a floral design painted in red, black, and sometimes yellow, and covered with a layer of wax. One characteristic of kokeshi dolls is their lack of arms or legs. The bottom is typically marked with the signature of the artist.
Kokeshi were first produced by kijishi (artisans proficient with a potter's wheel) at the Shinchi Shuraku, near the Tōgatta Onsen in Zaō. It is said that these dolls were originally made during the middle of the Edo period (1600–1868) to be sold to people who were visiting the hot springs in the north-east of the country.
There are eleven different styles of traditional Kokeshi dolls with each one being unique to a particular onsen within the Tōhoku region.
Due to their size and shape, and the fact that their wax coating makes their surface smooth and waterproof, Kokeshi are found to sometimes be used by curious girls and adventurous young women in Japan's historical-era and modern-day for masturbation and self exploration. Due to this the Kokeshi often finds itself loosely associated with masturbatory devices such as dildos and vibrators.
Community content is available under
CC-BY-SA
unless otherwise noted.