Kura
Gallery | Quotes | Relationship
Kana
クーラ
Romaji
Kūra
Voiced by
Chika Okubo
Physical Appearance
Monster Species
Kraken
Gender
Female
Hair
Red
Eye
Purple
Monster Profile
Occupation
Exchange Student
Media Debut
Kura is a Kraken that appears in Monster Musume: Everyday Life with Monster Girls Online.
Kura is a kraken meaning she has tentacles that are squid like acting as her legs. She also has large squid like eyes at the sides of her head.
She wears somewhat revealing clothing, her top showing off her midriff and she has on a blue mini skirt, with a pink belt. And has a hat on that is slanted to the side showing off the large eye at the side of her head.  
| | |
| --- | --- |
| Personality Type | |
| Level Max | 40 |
| Diet | |
Stats

Lvl.1

Max Lvl.

☆

☆☆

☆☆☆

100% Affection

気力
Willpower

475

851

948

1045

1142

+182

素早さ
Agility

83

148

165

182

199

+46

モン娘力(攻)
Attack

238

426

474

522

570

+110

モン娘力(守)
Defence

198

355

395

435

475

+119
Skills

'

おイタはあかんで~


Reduce the damage received from an attack by 25%

'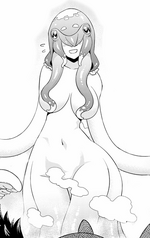 Kraken are a demihuman liminal race with the upper body of a human and the lower body of a squid.
According to Scandinavian mythology, the Kraken are said to be of giant size and responsible for the destruction of numerous ships and other sea-faring vessels.
The species was first documented by humans in the 13th century where their behaviour and characteristics were described. It was also noted that it was said that there could only be two members of the species in existence and that, based on this, they are not capable of reproducing. Whether or not this is true is unclear.

Her name comes from her species, in Japanese 'Kraken' is written 'Kurāken' (クラーケン).
She can regenerate lost tentacles.
She speaks in Kansai-ben.
Community content is available under
CC-BY-SA
unless otherwise noted.