Kyou
Gallery | Quotes | Relationship
Kana
喬
Romaji
Kyou
Voiced by
Kae Matoba
Physical Appearance
Monster Species
Jiang shi
Gender
Female
Hair
Red
Eye
Blue
Monster Profile
Occupation
Exchange Student
Media Debut
Kyou is a Jiangshi that appears in Monster Musume: Everyday Life with Monster Girls Online.
She has pale blue skin, red hair, and purple eyes. 
Jiangshi Physiology:

Stiff Joints: since she is a Jiangshi her joints stiffen to some degree while she sleeps, forcing her to hop around with her elbows and knees locked straight out.
Rotting: Due to being biologically dead, a Zombie's body is vulnerable to the same manner of decay a normal corpse would exhibit, and unless prosthetic intervention is taken, their bodies will presumably rot past the point of functioning.

Said prosthetic intervention can be in the form of being doused in preservative chemicals or receiving artificial organs.

The brain: Is assumed to be responsible for a Zombie's body functioning, and physical connection to it in some way is necessary for the Zombie to become animate. While at least moderate damage to the brain has not shown to have any negative effects on the Zombie in question, whether a body would continue without its brain is currently unknown.
Pain Tolerances: Zombies have high pain tolerances and non-weapon-based damage thresholds, though this doesn't completely dampen their ability to feel pain or prevent them from feeling pleasure since a condition that prevented the feeling of pain would cause the nerves to be unable to send pleasure.
Toxic Blood: A zombie's blood is composed of a toxic batch of preservation fluids made to be blood-like.
| | |
| --- | --- |
| Personality Type | |
| Level Max | 30 |
| Diet | |
Stats

Lvl.1

Max Lvl.

☆

☆☆

☆☆☆

100% Affection

125% Affection

150% Affection

200% Affection

気力
Willpower

267

425

484

533

587

+67

+104

+141

+

素早さ
Agility

56

89

102

112

123

+32

+43

+53

+

モン娘力(攻)
Attack

200

319

364

401

441

+59

+88

+117

+

モン娘力(守)
Defence

134

213

242

267

293

+39

+59

+78

+
Skills

'

プラス思考

受けたショックを15%減らすよ!

'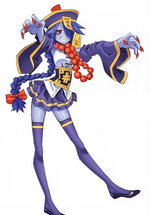 Main article: Zombie
Jiang Shi (キョンシー, Kyonshī, original Chinese: 殭屍 [Traditional]/ 僵尸 [Simplified], lit. "Stiff Corpse" in Chinese), known also as "Chinese Hopping Vampires", are a zombie subspecies found primarily in Asian countries, such as China and Taiwan.
Unlike standard zombies, hopping vampires are severely affected by the symptoms of rigor mortis, making their joints, especially their elbows and knees, particularly stiff. Because of this, they must practice tai chi every morning to stretch. However, their joints always stiffen to some degree while they sleep, forcing them to hop around with their elbows and knees locked straight out.

The Japanese word for "Jiangshi" is "Kyonshī", which is where Kyou's name comes from.
Community content is available under
CC-BY-SA
unless otherwise noted.