Kyure
Gallery | Quotes | Relationship
Kana
キュレー
Romaji
Kyurē
Voiced by
Asami Nakamura
Physical Appearance
Monster Species
Scylla
Gender
Female
Hair
Purple
Eye
Amber
Monster Profile
Occupation
Princess, Exchange Student
Media Debut
Kyure is a Scylla that appears in Monster Musume: Everyday Life with Monster Girls Online.
A really prideful princess, Kyure has a sharp tongue and occasionally spits ink.
She has pale blue skin, red eyes, and long pale purple hair. She wears a pale blue dress with seashells at her chest, a pearl necklace on, and a seashell, coral and other accessories in her hair. She has a gold armband on, and her lower body rather than legs she has pale purple and blue tentacles.
Scylla Physiology:

Kyure's Tentacles: In addition to being able to stretch out to a certain extent, her tentacles also posses a strong regenerative ability. Even if she were to lose a whole leg it would grow back. Though not as dexterous as her hands, her tentacles are quite useful for grabbing things from far away and other tasks.
Kyure's Ink: she has an ink sac in her throat, if she senses danger she can spit up ink. Since she has no real use for this ability in daily life sometimes it builds up enough so ink dribbles out of her mouth when she's half asleep.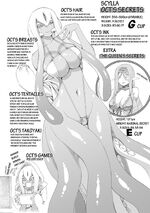 Scylla, also known as Cecaelia, are a demihuman liminal race with the upper body of a human and the lower body of an octopus.
Associated with Greek mythology, the Scylla are thought of as an aggressively solitary species that reside within underwater caves and ocean-borne cliff faces; however, some myths claim that the Scylla share a symbiotic partnership with the whirlpool-producing Charybdis, due to them killing many of Odysseus' men, mostly Scylla's work.
The race also have a reputation of being sea witches, possessing vast power over the ocean tides, weather and moon; though there is no truth to these claims, rumors still persist.

Scylla is written as "Sukyura" in Japanese, which is where her name came from.
Community content is available under
CC-BY-SA
unless otherwise noted.