Lato
Gallery | Quotes | Relationship
Kana
ラト
Romaji
Rato
Physical Appearance
Monster Species
Dragonewt
Gender
Female
Hair
White
Eye
Orange
Monster Profile
Occupation
Exchange Student
Media Debut
Lato is a Dragonewt that appears in Monster Musume: Everyday Life with Monster Girls Online.
Dragonewt Physiology:

Cold Blooded: Lato is poikilothermic due to being a reptile. Because of this, whenever the surrounding temperature drops, she will feel the need to hibernate. However, Draco claims that coffee helps alleviate the symptoms.
Dragonewt Skin: Her scales are stronger than steel, able to block cutting weapons and even deflect bullets.
Prehensile Tail: Lato can use her tail to grab things, as seen when she used to hold Miia's arms in place. It's size makes it able to support her body weight but makes her unable to sleep on her back. If someone forcefully pulls it, it can come off like a newt's. It also scrapes across the ground, making it annoying for her to walk for a long time.
Wings: While Lato has wings, she cannot fly with them. She has insufficient chest muscles and the wings have a small surface area, she'd be lucky to be able to glide. As opposed to Harpies, Lato can still glide while wet. The wings do cause a lot of wind resistance, making it exhausting for her to run long distances.

Superhuman Strength: As a Dragonewt, she has greater strength than even a Lamia like Miia, whom Draco was able to overpower with only one hand. This is especially impressive as Lamia have been shown to be already much stronger than Humans.
| | |
| --- | --- |
| Personality Type | |
| Level Max | 40 |
| Diet | |
Stats

Lvl.1

Max Lvl.

☆

☆☆

☆☆☆

100% Affection

125% Affection

150% Affection

200% Affection

気力
Willpower

400

716

797

959

+160

+

+

+248

素早さ
Agility

100

180

200

240

+97

+

+

+119

モン娘力(攻)
Attack

270

484

538

647

+124

+

+

+183

モン娘力(守)
Defence

180

323

359

432

+78

+

+

+118
Skills

褒めてくれてもいいのよ

相手モン娘2人に0.8倍のショックを与えるよ!

'

'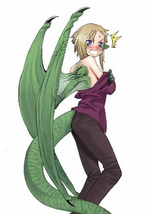 Main article: Dragonewt
Dragonewts (ドラゴニュート, Doragonyūto), also known as Dragon-kin (ドラゴンメイド, Doragon-meido), are a reptilian demi-human race said to be descended from dragons. Possessing scales and draconian wings, a dragonewt's scales are stronger than steel and as such they can block all cutting weapons and even deflect bullets. Like dragons, they have a scale that was reverse grown, touching them will make them weak.
Lato was a city in ancient Crete.
Lato means " Summer " in Polish.
Community content is available under
CC-BY-SA
unless otherwise noted.