Lethe
Gallery | Quotes | Relationship

Kana
レーテー
Romaji
Rētē
Voiced by
Aya Saito
Physical Appearance
Monster Species
Greater Devil
Gender
Female
Hair
Blonde
Eye
Pink with black sclera
Monster Profile
Occupation
Exchange Student
Media Debut
Lethe (レーテー) is a Greater Devil that appears in Monster Musume: Everyday Life with Monster Girls Online.
Greater Devil Physiology:

Wings: With the wings on her back she can fly.
Body: Because a fully-grown Devil's body stops developing at a certain point, it is common to find out Devils are much older than what their bodies look like.
Devil Ears: A Devil's ears are capable of direction-focused hearing and are employed mainly for the purposes of extremely effective eavesdropping to make their mayhem more precise.
Horns: A devil's horn shape is inherited, as well as the number of said horns. Normally, Devils possess one or two horns, but there have been individuals who have four horns.

However, Devils often get their horns become smaller via surgical means, as the horns can become problematic and interfering with daily life.

Magic: Devils are among the few species that are said to employ magic, with some skilled in psychic abilities such as hypnosis, which is how Devils typically sow discord, though this form of meddling is in conflict with the restriction of liminals harming humans.
| | |
| --- | --- |
| Personality Type | |
| Level Max | 40 |
| Diet | |
Stats

Lvl.1

Max Lvl.

☆

☆☆

☆☆☆

100% Affection

気力
Willpower

356

639

711

783

+155

素早さ
Agility

75

134

149

164

+73

モン娘力(攻)
Attack

267

479

533

587

+137

モン娘力(守)
Defence

178

320

356

392

+91
Skills

やばいんですけどー!

相手モン娘1人に2倍のショックを与えるよ!
Attacks at 2x damage

マジで言ってんの?

受けたショックを25%減らすよ!
Reduce damage taken by 25%

'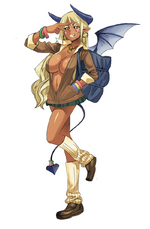 Main article: Devil
Greater Devils (グレーターデビル, Gurētā Debiru) are devils that have the bodies of humans in their late teens. Despite the name, Greater Devils are not matured Lesser Devils, but rather their own Devil class. They enjoy dressing in human fashion and venturing into the city at night to play rather malicious pranks.
However, because their actual age is much greater than their apparent age, much like Lesser Devils, they can be out of touch with fashion trends popular among younger people.

"Lethe", who is the personification of oblivion/forgetfulness/concealment in Greek mythology as well as the name of one of the rivers of Hades.
Even though she is a Devil, she has no "Devil Type" personality in the Game.
Community content is available under
CC-BY-SA
unless otherwise noted.