The Life-Sized Miia Dakimakura is a limited edition dakimakura "Love Pillow" of the character Miia from Monster Musume: Everyday Life with Monster Girls. Boasting an illustration created by Okayado himself, the pillow is designed to replicate Miia's full length as a Lamia and as a result is 7 meters (22.9ft) long.
Priced at 100,000 yen ($806.06 USD), the pillow was sold at the Tokuma Shouten publishing company's booth in the 2015, Comiket 88 expo in addition to other Monster Musume Merchandise. Following the event, it was revealed that the limited edition dakimakura sold out within 1 hour of the event's opening.
Other Dakimakura
Edit
A life-size "dakimakura" of Rachnera Arachnera was later released in October, 2017, at Comiket 92, in TOHO Animation's booth, in the form of a mattress cover (150x200cm) due to her natural size.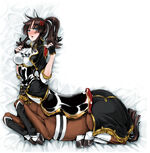 A dakimakura is a type of large pillow from Japan similar in nature to Western orthopedic body pillows and are commonly used by Japanese youth as "security objects". A subset of dakimakura are what are known as "Love pillows", which are usually dakimakura pillows that feature life-size pictures of anime/videogame characters.
While an L-shaped pillow (120cmx120cm) dakimakura of a centaur was created by mangaka Z-ton (If You Don't Mind This Hideous Body, SHIS circle, Monster Musume I ♥ Monster Girls Volume 2) and sold at Comic Anthurium at Comiket 83 and resold in stores from 2015 onwards, no official dakimakura of Monster Musume's centaur; Centorea Shianus, exists.
Community content is available under
CC-BY-SA
unless otherwise noted.