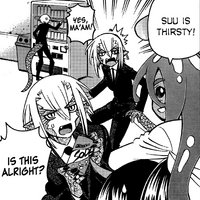 This page deals with Liz's interactions with the other characters.
Kurusu Household Guests
Edit
Liz misunderstood Suu as the VIP they were suppose to find and protect. 
They are fellow coworkers as bodyguards working under the same company. While she tends to berate Kinu for her lack of intiative and foolishness, Liz can be sometimes as dense and incapable as her. Regardless, Liz still cares for Kinu and wishes that her own shortcomings don't affects hers. 
Monster Community
Edit
As a fellow reptile Extraspecies, Draco tries to hit on Liz, but she finds the Dragonewt more of a bother to her work. 
Community content is available under
CC-BY-SA
unless otherwise noted.