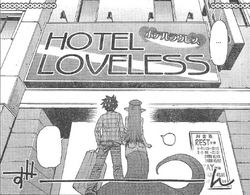 A Love Hotel is a hotel designed for short stays, from a few hours to overnight, popularized as the location where couples go for private liasons.
Becoming popular after 1958, when prostitution was made illegal, Love Hotels became an essential part of a couple's relationship in Japan, as many couples still lived with their parents and families, creating limited opportunities for privacy.
The hotels are often located near train stations or highways for ease of access, and much of the hotel is automated to limit awkward interactions with staff. Many are also outrageously themed with various decorations and playthings inside the rooms for the customers' convenience.
Each year Love Hotels in Japan rake in $42 billion and accommodate 500 million visits.
With an emphasis on discretion, most hotels have separate entrance and exit points, to reduce the chance of clients running into someone they know.
Some hotels also have mini-bars and room options with a list of purchasable items. Sometimes up to and including costumes and bondage gear.
Community content is available under
CC-BY-SA
unless otherwise noted.