Lucine
Gallery | Quotes | Relationship
Physical Appearance
Monster Species
Lamia
Gender
Female
Monster Profile
Occupation
Exchange Student
Media Debut
Lucine (ルシネ) is an Melusine that appears in Monster Musume: Everyday Life with Monster Girls Online.

Appearance
Edit
Lucine is a beautiful girl with cyanic blue hair, sapphire blue eyes and silky skin. She often wears a blue victorian-style dress with cyanic accents and a white hat with a blue accent. She has a pair of black wings as befitting a Melusine. Her serpentine tail is ocean blue with a pailer underbelly. She has ocean blue scales on her cheeks and pointy, blue ears.
Personality
Edit
Skills and Traits
Edit
Zoological Classification
Edit
Main article: Lamia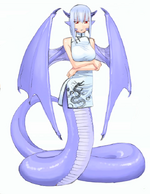 Melusines (メリュジーヌ, Meryujīnu) are a lamia subspecies with dragon wings on their backs. Due to this, they share characteristics with Dragonewts. In contrast to other lamia subspecies who share traits with terrestrial snakes, Melusines are more similar to sea snakes and prefer to live by the shore near oceans, lakes or rivers. Sadly, their wings aren't strong enough to lift their long lower bodies, making said wings being more vestigial in nature.
As a culture they place high value on pleasure and sensuality and have earned a reputation as having the highest libidos amongst the Lamia subspecies. Their unrepentant pursuit and knowledge of sexuality and their unabashed interest and desire in all forms and functions of sex is infamous even amongst the already sexually-free lamia species.

Community content is available under
CC-BY-SA
unless otherwise noted.