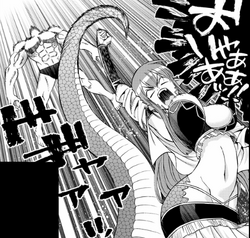 The Megaton Punch is a punch so strong that it sends its target across the room, across town, or into another state or country. Sometimes the punch is so strong that it sends its victim into low Earth orbit and vanishing as a twinkle in the sky or, in extreme cases, right into the sun.
The Megaton Punch is a one-panel gag that appears frequently throughout anime and manga as a punch that is so over the top that it is considered comedic despite the implied power and damage such a punch would usually result in.
In Chapter 62, Miia performs a Megaton Punch on the male representative of the Echidna tribe. However, while her punch sends him (a muscled man easily four times her body weight) into the air, the roof of the tent catches his flight and rebounds him back to the ground.
Community content is available under
CC-BY-SA
unless otherwise noted.