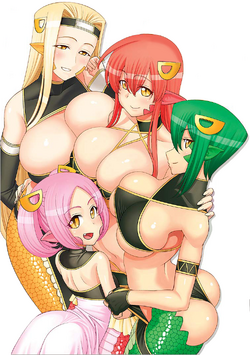 Sanka, Maru and Shequa are three Lamia girls who live at the Lamia Village in Europe
Raised on the customs of their culture, the three Lamia kidnapped and attempted to mate with Kimihito Kurusu almost as soon as he entered the village as they assumed that, as per Lamia custom, he was to be their new village husband. However, Miia interrupted their attempt as she did not want to share Kimihito with her village.
Later on the trio discover Kimihito alone in an alley being undressed and molested by some Lamia children and they join in. As the orgy quickly escalates into a Lamia breeding ball, with Centorea and Meroune also being drawn into the ball, the girls are thwarted from mating with Kimihito by the arrival of Mr Sir, the village's previous husband.
After helping to "train" Kimihito in the Hall of Tribulation, the girls participate in the meeting between the other snake tribes along with Miia, where they are frustrated by Miia's continual denouncing of the other tribe's communal husbands.
Eagerly joining the orgy that erupted following the Medusae tribe's presentation, the three lamia attempt to breed with Kimihito again with Miia only to have Kimihito snatched away by Miia's Mother and other elder lamia.
Following Draco's dramatic arrival, all three of the lamia girls immediately jump her and have their way with her despite the dragonewt's continued cries for Miia to save her.
While Kimihito is locked within the Hall of Tribulation, Miia's Mother reveals to Rachnera that a majority of the girls "training" him were virgins who eagerly wanted to experience their first time with a man. Among these girls were Sanka, Maru and Shequa.
When discussing what kind of boyfriends they would like to have, Sanka reveals that she would like someone she could have fun with (friends with benefits), Shequa admits she would be happy with a "kind" person who remembers anniversaries, while Maru states that she would like a guy that was "always up for it".
Community content is available under
CC-BY-SA
unless otherwise noted.