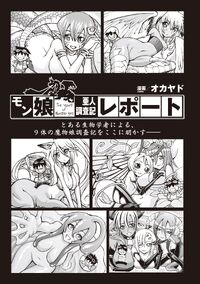 Monster Girl Report is a series of erotic comics created by Okayado and published in the COMIC Unreal adult magazine series in 2012.
Written in the style of a research diary, the series follows the exploits of John Smith, a "monster researcher", who goes out of his way to discover and document the mating habits and rituals of various monster girls.
In an attempt to discern the truth behind the myth that Lamia lure men back to their lairs and kill them after they've had their way with them, John embarks to infiltrate a Lamia tribe and experience their mating rituals. Purposely caught by a Lamia, John is dragged back to her tent where she begins mating with him. During intercourse, John reveals that he had trained to be able to withstand sex with a Lamia (which is said to last around 10 hours) and demonstrably outlasts her by going continuously for over 24 hours.
In a bid to investigate the Harpy mating season, John allows himself to be captured by a Harpy. While she had captured him originally for the intent of feeding her young, the Harpy had forgotten that she hadn't laid any eggs yet and so mates with John for this purpose.
John is captured by a Centauride who had the intention of having sex with him due to no longer being able to stand her heat. Only used to mating with other centaurs, she is surprised by his consideration for her and is able to make her orgasm despite never being able to do so previously during mating. However, while she was praising him for this she accidentally calls him small and he falls into a depression.
While doing research on the symbiotic relationship between the carnivorous Alraune and the Papillion "butterfly girl", John is captured by a duo of the species and they indulge to explain their relationship while "feeding" on him. In the end revealing that, while as adults they worked together, when they were younger they had repeatedly tried to eat each other.
Having studied all known monster girls in the world, John has lost direction in life and took to feeding Slimes while considering what he should do now. While lost in thought, the slimes spontaneously transform into a humanoid form before his eyes. Immediately engaging her in intercourse, John becomes inspired to continue traveling the world in search of more undocumented monster girls; recruiting the slime girl as his new assistant.
John Smith shares his surname with Coordinator Kuroko Smith.