Myuu
Gallery | Quotes | Relationship
Physical Appearance
Age
Unknown
Monster Species
Ryu-jin
Gender
Female
Hair
Silver
Eye
Blue
Monster Profile
Occupation
Exchange Student
Media Debut
Myuu is a Ryu-jin that appears in Monster Musume: Everyday Life with Monster Girls Online.
Appearance
Edit
Personality
Edit
Skills and Traits
Edit
Ryu-jin Physiology:
Just like Dragons and other reptiles, they are cold-blooded and poikilotherms.
Ryu-jin Body: Unlike Dragons that have wings, Ryu-jins are wingless.
Zoological Classification
Edit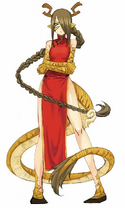 Main article: Dragonewt
Ryu-jin (龍人, Ryūjin) are a subspecies of Dragonewt. Unlike them however, they resemble Eastern Dragons, and as such, they have deer-like horns and long tails. Yet unlike Dragonewts, they have no wings, making them appear to be lizardmen at first glance. They possess an immense vitality, and live much longer than most humans, up to ten times a normal human lifespan. Like Dragonewts, their reverse scale are their weakness.

Myuu refers to the player as "Goshujin-sama".
She is currently a non playable Character.