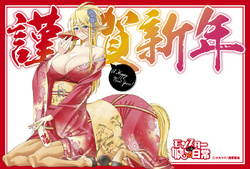 New Year's Day (正月 shōgatsu) is celebrated on January 1st each year.
Considered by most Japanese to be one of the most important annual events of the year, the event has been celebrated for centuries with many unique customs focusing on the renewal, or clean-slate that the new year brings.
A common way of celebrating the New Year is Hatsumōde; the year's first trip to a shrine or temple. Many people visit a shrine after midnight on December 31 or sometime during the day on January 1st. If the weather is good, people often dress up or wear kimono.
At midnight on December 31st, Buddhist temples all over Japan ring their bells a 108 times to symbolize the 108 human sins in Buddhist belief. The action is meant to symbolize the cleansing of these sins and the 108 worldly desires regarding sense and feeling in every Japanese citizen.
Before 1873, the date of the New Year was based on the Chinese lunar calendar, however in 1873 Japan adopted the Gregorian calendar, making the first of January the official New Year's Day in modern Japan.
The Japanese New Year is more like a traditional Western Christmas. New year is the period where families get together, have a special meal, pray and send greetings cards. New year is celebrated over five days from December 31st to January 4th and is a very busy time.
Okayado posts an image of a monster girl relating to the chinese zodiac for the new year each year on his twitter account. To date he has posted a Lamia (Year of the Snake, 2013), a Centaur (Year of the Horse, 2014), a Pan Faun (Year of the Sheep, 2015), a Lemur (Year of the Monkey, 2016), two Harpies (Year of the Rooster, 2017), a Kobold (Year of the Dog, 2018), and an Orc (Year of the Pig, 2019).
Merino and the Pan Faun and Satyr girls on Black Lily Ranch were first conceived when Okayado was asked what monster girl he was going to draw for the Year of the Sheep (2015) and he drew a Pan Faun being sheared.
Community content is available under
CC-BY-SA
unless otherwise noted.