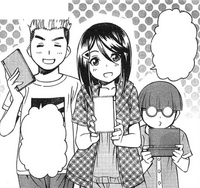 The Nintendo DS (ニンテンドーDS Nintendō DS) is a dual-screen handheld game console developed and released by Nintendo in North America on November 21, 2004.
Later released on December 2nd, 2004 in Japan, February 24th, 2005 in Australia and March 11th, 2005 in Europe, the handheld console is part of the seventh-generation of console gaming, with its primary competitor being the Sony PlayStation Portable.
On March 2, 2006, Nintendo launched the Nintendo DS Lite, a slimmer and lighter redesign of the original DS with brighter screens. On November 1, 2008, Nintendo released the Nintendo DSi, another redesign with several hardware improvements and new features.
The Nintendo DS line was later succeeded by the Nintendo 3DS in 2011.
"DS" is short for "Developers' System" or "Dual Screen".
The DS was marketed as an experimental "third pillar" in Nintendo's console lineup, meant to complement the Game Boy Advance and GameCube. However, the console's popularity caused it to replace the Game Boy Advance as the company's primary handheld console.
The Nintendo DS Yuuhi Hajime is seen playing with at the end of Chapter 38 was originally Kimihito Kurusu's, who was seen playing with it at the beginning of the chapter.
Community content is available under
CC-BY-SA
unless otherwise noted.