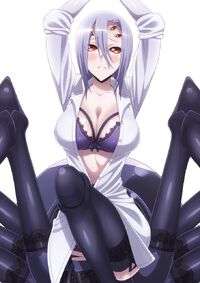 OAD 2: Everyday Life when Rachnera Disappears (ラクネラがいなくなる日常 Rakunera ga Inaku Naru Nichijō) is an Original Anime DVD released with the manga's twelfth volume on 13th April 2017. The OAD is an animated adaption of Chapter 26 and an omake from Volume 4 of the Monster Musume: Everyday Life with Monster Girls manga series.
Like the animated series, the OAD is directed by Tatsuya Yoshihara and written by Kazuyuki Fudeyasu, with animation by animation studio Lerche.
After credit Bestiary
Edit
Scorpion
Mosquito
Mothman
Killer Bee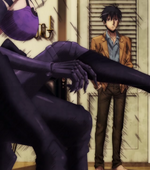 Killa appears as the species example of a Killer Bee on the OAD's Extra Species End Card.
The still shot of Rachnera putting on stockings while Kimihito stands by the door is a reference to one of

The Graduate

's most iconic scenes, with Kimihito as Benjamin and Rachnera as Mrs. Robinson who's putting on stockings and trying to seduce him. The English Dub further solidifies the reference with Kimihito stating, "Rachnera, you're trying to seduce me."
Rachnera's letter shows the ISBN-13 "9784199504129". This International Standard Book Number belongs to the Japanese version of Monster Musume: Everyday Life with Monster Girls (モンスター娘のいる日常, Monster Musume no Iru Nichijou) Volume 6; the manga volume where Chapter 26 (the manga chapter that the OAD is based on) is collected.
Difference from the Manga
Edit
Okayado Coffee is referred to as Stertbooks Coffee in the manga.
In the OAD, Papi receives a Sweet Café au lait when Kimhito is handing all the girls their drinks, while in the manga she receives a Sweet Cappuccino.
Community content is available under
CC-BY-SA
unless otherwise noted.