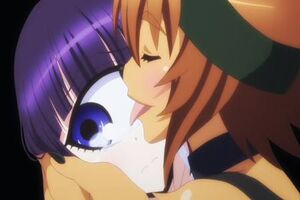 Oculolinctus (Gankyū name purei (眼球舐めプレイ, "eyeball licking play")) is the practice of licking the eyeball as a sign of intimacy and erotic gratification that arose in 2013. It was reported as a new erotic fad among Japanese teenagers that originated from a music video by the Japanese band Born. While that practice reportedly led to the rise of eye-related infections such as conjunctivitis and eye chlamydia, other media have reported that the existence of this practice is a hoax based on a story in a Japanese tabloid.
The act has since become a fetish niche in Japanese media.
Community content is available under
CC-BY-SA
unless otherwise noted.