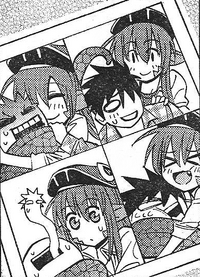 Print Club, also known as Purikura (プリクラ Purikura) or Purinto Kurabu (プリント倶楽部 Purinto Kurabu), refers to a type of photo booth that produces specialized/stylized photo stickers. It is a popular collector's hobby in Japan where collectors have their photos taken in photo booths, can choose to edit the photo's image with stylized pictures or borders, and collect the specialized stickers in books/albums.
First appearing in 1995, the idea was suggested by Sasaki Miho of the arcade developer company, Atlus. Teaming with Sega, the specialized photo booths were developed to target female collectors and were popularized by boy bands such as SMAP. By 1996, 20,000 Purikura machines had been shipped across Japan, with some featuring specialized pictures that are only relevant to their location.
The hobby of print club collecting is similar to stamp collecting in which a collector would seek out limited-edition pictures and pictures commemorating events or other media like movies, videogames or pop stars and store them within albums.
Community content is available under
CC-BY-SA
unless otherwise noted.