Rohe
Gallery | Quotes | Relationship
Kana
ローエ
Romaji
Rōe
Voiced by
Yuu Asakawa
Physical Appearance
Monster Species
Ogre (Oni)
Gender
Female
Hair
Silver
Eye
Red
Monster Profile
Occupation
Exchange Student
Media Debut
Game
Monster Musume Online (21/12/2015)
Rohe is a Ogre that appears in Monster Musume: Everyday Life with Monster Girls Online.
She joins the liminal exchange program as a teacher to teach humans about ogres, becoming one of many potential homestay boarders for the player to host.
Rohe is a tall girl of slim build and considerable height, due to her ogre heritage. She has red skin, long pointy ears, and two small horns protruding out of her forehead. Her silver hair is cut short and styled and she dresses in a fashionable ensemble of jeans, tank-top, overcoat and a fur wrap draped over horned spaulders . She also has red eye's, and her nails are painted black. 
Rohe is a patient lady who possesses an air of knowledge acquired from studying.
She behaves like a teacher and often refers to herself as such, however, behind her professional exterior lies a girl that is not good at haunted houses, likes books, and possesses a desire to go to the amusement park and ride the ferris wheel and merry-go-round.
Additionally she seems to consider herself weak by ogre standards.
Ogre Physiology:

Heavyweight: Due to her size as an Ogre she is considered a heavyweight.
Immense Strength: As an ogre, Rohe possesses strength far beyond that of any known being. She was shown to easily break through concrete walls.
Ogre size: Height-wise Rohe is considerably larger than the standard human.
Resilience: Rohe is able to resist most kinds of physical pressure, but if someone is familiar with an Ogre's weakness (Ogre's sensitive horns).
Horns: Ogre horns are connected directly to the skull, thus making them quite sensitive to the touch.
| | |
| --- | --- |
| Number | No.0014 |
| Rarity | |
| Personality Type | |
| Level Max | 20 |
| Diet | |
Stats

Lvl.1

Max Lvl.

☆

☆☆

☆☆☆

100% Affection

気力
Willpower

154

214

246

277

308

+ 41

素早さ
Agility

32

45

51

58

64

+ 24

モン娘力(攻)
Attack

116

161

185

208

231

+ 43

モン娘力(守)
Defence

77

107

123

139

154

+ 24
Skills

'

'

Cool Aura

Raise all stats of Cool Type Girls by 15%.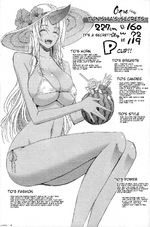 Main article: Ogre
The Ogre (female: Ogress), is a humanoid race of sub-giants famously depicted in folktales and European mythology as violent, cannibalistic, man-eating monsters with downright retarded or stupid attitude.
While many of their depictions in mythology may not hold true to how they are in reality, Ogres are indeed very tall in stature, ranging from two to three meters, and possess incredible strength. Thought to live in mountainous areas or wastelands, most Ogres have a single large horn protruding from their head and tend to have thick, tanned skin. Despite their large size, many ogres are laid-back and carefree.
Rohe's species is listed as "Ogre" in game despite her appearance obviously matching the "Oni" subspecies. This may be because, in Japanese mythology, "Ogre" and "Oni" are the same creature, and so Rohe was made an "Ogre" (ie "Oni") by the producers of the game without knowledge that the species "Ogre" and "Oni" were set as two different species in the manga/anime universe.
Rohe refers to the homestay host as "human-kun"
Rohe admits that she like's humans for their cute, "tiny hands".
Rohe, along with Rus, Bisque and Kalolo, make cameos in Miia's fashion magazine in Chapter 43 of the Monster Musume: Everyday Life with Monster Girls manga.
Community content is available under
CC-BY-SA
unless otherwise noted.