Rohe
Gallery | Quotes | Relationship
Kana
ローエ
Romaji
Rōe
Voiced by
Yuu Asakawa
Physical Appearance
Monster Species
Ogre
Gender
Female
Hair
Silver
Eye
Red
Monster Profile
Occupation
Exchange Student
Media Debut

Rohe is a Ogre that appears in Monster Musume: Everyday Life with Monster Girls Online.
Appearance
Edit
Personality
Edit
Skills and Traits
Edit
Zoological Classification
Edit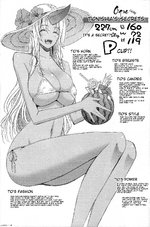 Main article: Ogre
The Ogre (female: Ogress), is a humanoid race of sub-giants famously depicted in folktales and European mythology as violent, cannibalistic, man-eating monsters with downright retarded or stupid attitude.
While many of their depictions in mythology may not hold true to how they are in reality, Ogres are indeed very tall in stature, ranging from two to three meters, and possess incredible strength. Thought to live in mountainous areas or wastelands, most Ogres have a single large horn protruding from their head and tend to have thick, tanned skin. Despite their large size, many ogres are laid-back and carefree.
Community content is available under
CC-BY-SA
unless otherwise noted.